Home
Site Map
Source Page
Frederick James Hotten
Recollections
Find
Frederick
in the family tree
Internet Explorer users should hear a spoken introduction to this page.
My earliest recollection of Grandad is that he worked on a railway yard crane unloading timber and I gained the impression that he must have plenty of spare time while stuck in his cab because he carved me a number of wooden toys when such things weren't available in the shops. A heavy red wooden trolley bus with chalked figures in its black painted windows survived many years of being dragged around makeshift tracks in the garden some of which were complete with twigs supporting 'electric wires' made of string, A box of wooden bricks survives to this day. Another by-product of work in the timber yard was a ready supply of feral kittens as pets.

Whilst we lived not two minutes walk away from Grandad in Porter's Field he used to take me on local walks. Stray bombs had provided innumerable little ponds for the collection of frog's spawn and the nearby railway line provided a common interest as clanking worn out steam engines hauled massively long goods trains out of Stratford's marshalling yard at barely walking pace. The longest we counted I clearly remember was of 137 unbraked coal wagons. If one walked further along the railway line there was a point at which one could get across it which led to Walthamstow's street market. On one such visit Grandad bought me a toy traffic policeman with hands up and outstretched in 'Stop' fashion. On the way home I repeatedly ran ahead of Grandad and stood the policeman on the pavement in front of him. He dutifully stopped every time; the patience of a saint!

After being widowed for the second time in 1956 Grandad was a regular visitor to our home in Farnborough and would sometimes stay for quite long periods. He was always good for a a 'threepenny brick' when the Walls ice cream van came around - which he always called the okey-pokey man. During these stays he could sometimes be coaxed into providing stories of 'the olden days'. Apparently farmers still used to walk their sheep to Smithfield Market through the streets of West Ham and young boys would find it irresistible to follow them to their destination, although the long hike back tended to dampen their enthusiasm. Another tale concerned the losing of sixpence down the back of a newspaper placard fixed to the front of the local shop when sent on an errand by his mother, the subsequent severe ticking off by his mother and the joy of finding half a crown when sent back with a stick to scratch around behind the placard.

Grandad signed up to be a soldier in 1913 and trained at Warley and Oakhampton barracks and joined the Royal Field Artillery. As such he saw service in the major battles of World War I including the Somme and Ypres. In common with many men who survived that war he was never very keen to say much about it; however a number of incidents were teased out of him.

These included the fact that shells that you could hear weren't the ones to worry about as they were flying over your head, and that when they landed in the stables, or in one case an orchard where the horses had been kept overnight, removing their remains from the branches of the trees was not a job for the squeamish.

He also described a near miss when he was cooking breakfast for his troop with a friend. They were contentedly frying the eggs and bacon when he heard a strange noise and on looking around saw his friend with a small hole in his head and uttering his last words, "oh Fred" as he fell to the ground dead, victim of a sniper's bullet. (†)

A much happier incident concerned an inspection by some visiting officers accompanied by a Military Policeman. Frederick said that he bet a fellow soldier that he could be cheeky to the officer and get away with it, which he did and was promptly arrested by the M.P. What he had not told his soldier friend was that he had recognised the M.P. as his father who at the time he didn't even know was in France, nor that he was an M.P. Naturally he was released without charge.

After the war ended; being a regular soldier rather than a conscript, he remained in the R.F.A. and was stationed at Bordon where he was on standby in case of expected civil and industrial unrest. Whilst staying with us in Farnborough during the late 1950s and with both Aldershot and Bordon being nearby he was able to visit his old haunts and proclaimed that they had not changed one bit since he was there in 1913 and 1919. Aldershot's Wellington Barracks, he said were old and decrepit in 1913, they certainly smelled strongly of horse manure as late as 1966 when I bought a house within sniffing distance of the barracks. Wellington Barracks were eventually demolished a year or two after Grandad died. (See his war record card.)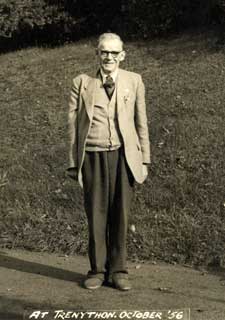 In 1956, while staying with us in Farnborough Grandad became unwell and spent time in Farnham hospital. In those days children were not allowed into adults' secrets and I didn't ever know exactly why he was there but I remember Grandad speaking of doctors chipping into his bones and pointing at his chest. Whether he was suffering from a bone complaint (as I thought at the time) or whether it was heart surgery I do not know. After treatment at Farnham he took advantage of his former employer's convalescence facilities at Trenython, Fowey, Cornwall. On the left is the official photograph of his stay at Trenython Manor, now a hotel.

In 1965 while still living with my parents at 37 Aldershot Road, Fleet I answered the telephone which Dad had only recently had installed - he thought he should after I started working for the G.P.O. - and it was Aunt Win who told me that Grandad had died whilst they were out at a Scout Gang show, and it fell to me to break the news to his daughter; my mother.

Unknown to me, Frederick had written to say he was "not so good" only a few days earlier. The letter came to light only in October 2008. ††

If you enjoyed hearing the spoken introduction about Frederick's allotment you may wish to see him hard at work on it.


Information provided by Malcolm Knight.
† Additional material by Geoffrey Hotten.
†† Added 21 October 2008
Top